Anthem Outlets Shopping Extravaganza
Do you love Shopping?!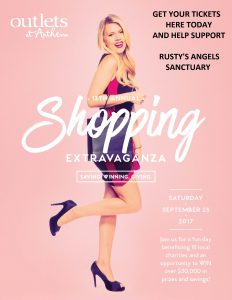 Purchase your ticket today to get in on the savings and gifts!
Tickets are $25 and $15 of that goes directly to Rusty's Angels Sanctuary.
Anthem Outlets is holding their 13th Annual Shopping Extravaganza event.
WHEN: Saturday, September 23rd!
This limited-admission charity fundraising event features one-day-only savings offers, a special shopper lunch, wine, dessert bar and opportunities to win several fantastic prizes. More than $30,000 in prizes from participating stores will be given away, with the proceeds benefitting Rusty's Angels Sanctuary and 17 other local charitable and non-profit organizations. Last year's event raised more than $40,000 for well-deserving organizations in the valley.
There are multiple ways to get your tickets today:
1. Online at www.rustysangelssanctuary.org
2. Online at www.shopx2017.eventbrite.com (be sure to pick Rusty's Angels as your designated Charity)
3. Daisy Mountain Veterinary Hospital in Anthem – ask the receptionist.
4. Customer Service inside the Cafes at Anthem Outlets (be sure to tell them you want your ticket to go towards Rusty's Angels)
Are You Ready For Some Football?!?!?
Do you love Football?!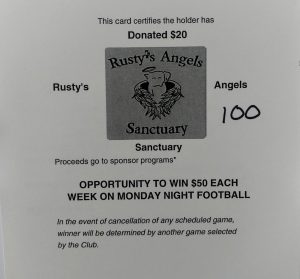 Well even if you don't we have a fun new way to help raise funds for our Sanctuary all while getting a chance to win $50 a week for 18 weeks!! It's a win win!!!
For only $20 you will get an opportunity to win $50 each week on Monday Night Football. (Including Thanksgiving and the Super Bowl). You could win up to $900 all for just $20.
First Winner: September 11th!!
Bonus is you can play from anywhere in the US, we will mail your football book to you and call you when you win!!! Its that easy!
Buy your tickets online now or at Rum Runner's Bar in Phoenix, Az.
Thank you for your continued love and support!!